What is the Celigo Shopify Connector?
The Celigo Shopify Connector allows you to connect your Shopify website to Netsuite so that you can sync customers, orders, shipments, inventory levels and more. What's great about using this system is that it eliminates any manual data entry between Shopify and Netsuite which allows your business to scale and grow faster. Below is a diagram of the key integration flows for this connector. If you aren't sure exactly what Celigo is or the other connectors, make sure to checkout our overview called What is Celigo.
What Shopify packages does Celigo have and what's the difference?
Celigo offers multiple packages of the Shopify Connector based on your businesses specific needs. There are a total of 3 different packages called Starter Edition, Standard Edition, and Premium Edition. All together, this connector has 9 pre-built flows, and each package enables more of the flows.
The Starter Edition comes with 4 most popular flows which include importing customers, importing sales orders, exporting shipments/fulfillments from Netsuite to Shopify, and syncing inventory levels from Netsuite to Shopify. These 4 flows are the most important ones needed in any Shopify to Netsuite integration, however, some businesses require additional flows which we will breakdown more.
The Standard Edition comes with 2 additional flows which are exporting items from Netsuite to Shopify and exporting billing information from Netsuite to Shopify. We personally don't use the item export much, but the billing export can come in handy for some businesses based on how and where you charge your customers. Typically orders come in as authorized and paid by the credit card processor, but you may want to only authorize and then capture in Netsuite which would make this flow handy.
The Premium Edition includes 3 additional flows which are syncing order refunds between Netsuite and Shopify, syncing order cancelations between Netsuite and Shopify, and import fulfillments from Shopify to Netsuite. The most commonly used one is the refunds and order cancelation sync. Using those two and save a lot of time and headache by eliminating the need to cancel the order and issue a refund or credit memo in both Shopify and Netsuite. Your customer service team will appreciate this flow.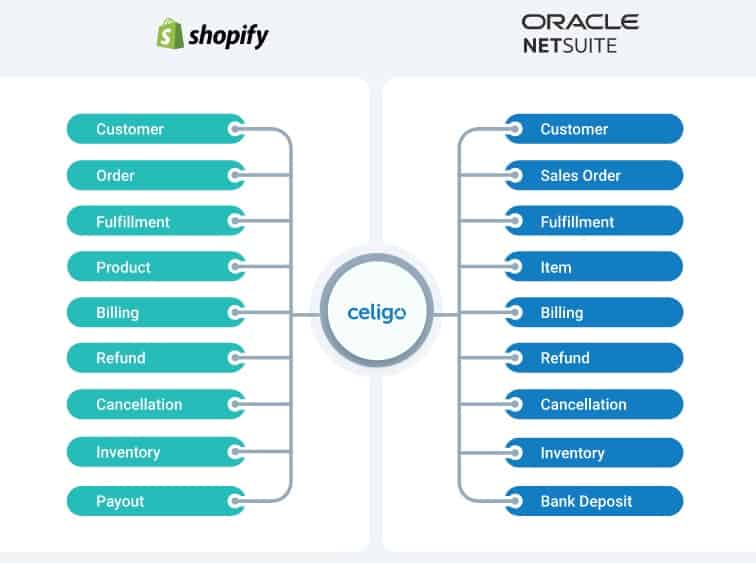 What is the Shopify Payouts Reconciliation Add On?
This add-on allows you to sync payouts from Shopify Payments on a scheduled basis which then applies the payment to the invoice, cash sale, or sales orders in Netsuite. This is great because you're able to apply transaction fees and automate the payout for each specific order record in Netsuite.
To learn more about how this flow works and how to configure it, read the article from Celigo help center here.
Can I Have Multiple Shopify Accounts?
Yes, Celigo support multiple Shopify accounts. Typically you will receive a discount when you have multiple accounts. When inside of the integrtor.io platform, each Shopify store will have it's own settings and data mappings, but in most cases those settings can mirror the existing Shopify store. This makes having multiple Shopify stores integrate with Celigo and Netsuite without any headaches.
To learn more about how you can have multiple Shopify accounts setup with your Celigo integrator.io connector, read about it on their help center here.
Does it support Shopify Point of Sale (POS)?
Yes, point of sale, also known as POS, is an advanced feature that is supported by the Celigo Shopify Smart Connector. This allows you to import sales orders from your retail store locations, and even supports advanced features such as buy online, pick up in store, or buy in store, and ship to customer. This allows you to create a more branded omni channel experience without any heavy lifting from a technical stand point. One thing to note is that configuring these features tend to require some additional work with setting up your Celigo Shopify Smart Connector.
To learn more about Shopify POS and how it can integrate with Celigo, read their article in their help center here.
Can I make Custom Flows?
Yes, with the Celigo Shopify Connector, you have the ability to create 4 customizable flows. This is great if you have custom features or flows you need that are not already available with the Starter, Standard, or Premium editions.
To learn more about creating custom flows with the Celigo Shopify connector, check out the article in their help center here.
How much does it cost?
The Celigo Shopify Smart Connector is billed on 3 different pricing packages. Started Edition starts at $3,000 per year. The Standard Edition starts at $5,400 per year. Lastly, the Premium Edition starts at $7,200 per year. Keep in mind, this does not include the setup and configuration of each connector. Typically the setup and configuration with their managed implementation package starts around $7,000 per connector. This is typically based on a scope of work and the amount of hours for your specific needs.
Celigo Custom Connectors are typically custom priced connectors that are priced based on complexity of the integration you are trying to build. Typically they will review any API documentation from the application that you are trying to integrate to so that they can understand how much work it is to build out each flow. Then, they typically create a quote for each individual flow.
If you do multiple connectors with Celigo, they tend to offer discounts. Make sure you keep that in mind if you are setting up a new system and doing multiple connectors at the same time.
Who provides support?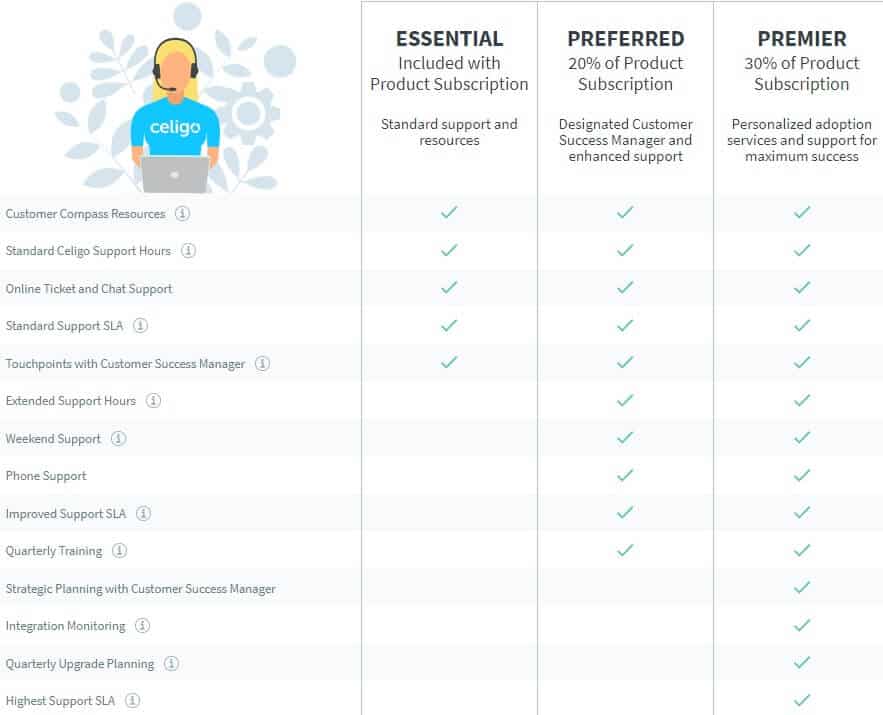 Celigo support can be somewhat frustrating. They have multiple support plans that are called Essential, Preferred, and Premier. Essential gets you chat and ticket support. We found that the chat and ticket support can be time consuming and cause a lot of back and forth due to lack of understanding of your needs. Preferred and Premier get you phone support which makes life a lot easier, but it comes with a hefty price tag.
This is where we come in. We love helping customer build out new connectors as well as manage and monitor existing connectors and provided day to day support for not only the Celigo Shopify Connector, but all Celigo Smart Connectors as well as Celigo Custom Connectors. We are always a phone call away, and can have someone working on your ticket within minutes. Contact us today to learn more.