Do you want to start a successful Amazon business?
If you are running an eCommerce business and want to start selling on Amazon, you are at the right place. In this guide, we are going to see how to start selling on Amazon. This ultimate guide is for you if you are already selling your product somewhere and also for the people who are new to the eCommerce business and want to start an Amazon business.
Choosing a Niche
You will have to select a niche first. Niche is nothing but the group of audience you are going to target. You can either have a niche-specific product or you can sell all different kind of products in your store. Mofluid has a great blog article to help find Amazon specific niches.
If you are just starting, we suggest you select a specific niche where you can sell your product.
The next thing you will have to do is find a product. You need to find a winning product that sells like crazy. In the next section, we will see some of the tips you can go with it.
Narrow down your Search
You can always narrow down your search. Searching the entire Amazon website is hard. Therefore, you need to narrow down your results. This is how you can find the best products you want.
Here are some of the best filters you can apply.
You can find a product that is priced anywhere between $21 to $199. $21 is the median product cost.
The product you are selling should be light in weight and easy to ship. This is necessary because we don't want to incur a huge shipping cost. Instead, we can go with small products. This will save us some money in shipping.
The product doesn't have to be a hot-selling product but it should be at least an average selling product. You can keep the target of at least 10 to 15 sales a day.
Now comes the profit margin. We suggest you find a product that has a huge profit margin. It should be at least 40% and on the upper band, you can go with a maximum of 65%. More profit margin means that the product won't be selling fast or it will have huge competition.
The product you are finding shouldn't be the top-selling product. The best-selling product usually has a lot of competition. You don't want that. Therefore, you need to find a product that has less than 200 reviews. These are the average selling product.
Things to Avoid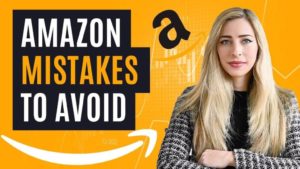 If you are looking to learn how to start selling on Amazon, you will need to make sure that you avoid some of the most common mistakes we see with new sellers on Amazon.
Keep these things in mind and there will be lesser chance that you will fail at starting your new Amazon business.
Don't choose a product that is very hard to ship. This will increase your cost as well as it will take some time to ship the product.
If the item can be damaged by shipping, than it is not the best product. This is because if the item is damaged during the shipping, it will cost you a lot. You might start getting the refunds. You surely don't want that.
Don't select any product from the restricted categories. Yes, Amazon has some restricted categories. You shouldn't go with anything that falls under these categories.
The product that is the best-selling is probably not right for you when you are just starting.
If you are selling the same product that is sold in the retail stores, you will not do that well. Now, there could be many products that are available in retail stores. So, you just need to find the product that is not available in the retail store easily. Be a bit unique and find that unique product.
Explore the Market
You can't finalize things right away. Even if you found the right product that sells, you will have to do some market research.
This is the place where you can explore the entire market and not just Amazon. The eCommerce industry is huge and if you are just stuck on the Amazon website, you will never do decent market research. Therefore, you will have to get out of Amazon and research your product.
Please note that we will be selling on Amazon. We are doing this for research purposes.
You can have a look at all the other websites that in completion with Amazon and search for the product. This is the place where you will have to invest most of your time.
You can explore all the websites that you can probably think of. You can use the same procedure to search for the product. There are two more websites that you might not have heard of but you should surely check them out. They are Aliexpress and Alibaba. These are the wholesaling websites from which you can get the product.
As of now, we are only researching the product. So, don't worry about the ordering. You can simply do your research here.
In the end, make a small list of 15 to 25 products that you think are the best. We will surely remove some of these products and finalize only a few of them.
However, we will keep the same products for now. The next step is finding the supplier.
Find the Supplier
This step is only for the people who are new to Amazon. If you already have any of the eComemrce business, you don't need to focus on this step. You can directly use the same products.
For all the other people, your next step is to find a supplier. Finding a supplier might look like the toughest job but it is not. You can easily find a supplier.
Like most of you might have guessed, you can simply head over to Alibaba. Alibaba is the place where you can find tons of companies. These are the wholesalers who will provide you the product at a very low price. You can make your profit thereafter.
There is something called MOQ. MOQ stands for Minimum Order Quantity. This is the minimum number of quantities that you need to buy when you place an order.
Finding the Best Supplier
Here are certain ways to find the best supplier inside Alibaba if you want to sell on Amazon.
Make sure they have a good standing account. For that, you can check out reviews and you will come to know many things about the company. Don't just see the ratings, read the reviews.
They must ship the items to your country. Without that, it won't be possible to sell the product(s) on Amazon.
You need to see the minimum order quality. If the minimum quantity is high, you might run out of cash. It's important to maintain a cash flow when you are runing a business. So, make sure you don't run out of cash in making more profit. It's completely fine if you have to pay more but don't overload your warehouse.
See the country of origin. If the seller is from China and you are in the US, it will take some time for the item to arrive. Also, it might affect you a bit due to the trade war. Therefore, you can simply ask them whether they ship to the US or not. Alternatively, you can always go with a US supplier. You will surely find many of them. So, that is not an issue.
Last but not the least, it's always recommended to contact them before you order anything. When you contact them, you can ask all your questions or any concerns so you feel more confident when purchasing. Even if you don't have any doubts or questions, it will just take you a few minutes to contact them. So, you should do it. The language might surely be an issue here but that is alright. You can adjust a bit here.
Know the Basics before Selling on Amazon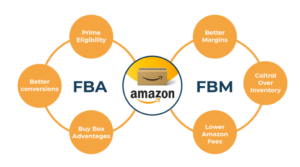 If you are completely new to Amazon selling, this section is for you.
Basically, there are two different ways that you can use to sell your products on Amazon.
FBA: Fulfilled by Amazon
FBM: Fulfilled by Merchant
FBA: In FBA, Amazon handles all things and gives you peace of mind. If you are the type of seller who believes in outsourcing all your work and keeping a lower profit, this is for you. Here, you will list the product on Amazon and send the product to Amazons Warehouse. When the customer orders from you, Amazon will handle all the shipping, customer support, etc for you. You don't need to do anything. They will even handle the returns if your customer decides to return the product.
FBM: This is where you list your product on Amazon and you are the one who handles all the shipping, packaging, as well as customer support. Of course, the margin is bigger here. Unlike with FBA orders, you will need to manage shipping the product to the customer as well as handling the return shipping and customer service should your customer have a problem. This requires more work on your end, but saves you a little money.
Create a Perfect Plan
You will have to create the perfect business plan now. This should be the first step when you are planning to sell on Amazon. However, as most of you are new here and have no idea how to sell on Amazon, we have covered the basics of selling on Amazon.
Now that you know about all the basic things, you can surely start writing your business plan.
A business plan should have all the information about your business.
It takes a lot of time to write a business plan. So, don't rush. You can surely take your time.
Here are some of the things to include in your Amazon business plan.
Model: Your business model is the complete overview of how you are going to do business. This includes everything from selecting the product to shipping it. You can decide on which type of service you will use, whether it's FBA or FBM.
Cost: You need to make sure that you have listed all the costs. You will have to pay the Amazon seller account charges (15%), inventory storage charges (FBA), fulfillment fee, product costs, shipping costs (for FBM orders) etc. Create a proper plan for it.
Marketing: We suggest you keep the entire marketing module aside. You can allocate a separate budget for this. You can include sponsored products, sponsored brands, sponsored display, sponsored videos, DSP, social media marketing, etc.
Outsourcing: If you are planning to outsource any of the things, you need to create a proper plan for it. This includes the most basic thing such as product description's copywriting as well as more complex things like shipping and customer support. Make sure you have a proper plan for this.
Scaling: Not much needed when you are starting but you can surely keep this for the future to-do-list.
Get Help from Experts
It's hard to start selling on Amazon if you are new and have no experience in it. Amazon has 2.5 million active sellers listed on their website and is increasing at a tremendous speed. During the pandemic, the number of sellers increased as people are shifting to online shopping instead of shopping in traditional brick and mortar stores.
Did you know, only 64% of Amazon sellers are profitable within their first year of selling? So, a total of 36% of businesses doesn't make a profit on a single penny within the first 12 months.
This is why you need to boost up your game. A consulting company will help you in setting up your store, finding the right product, maintain the costs, marketing, etc. In simpler words, there is not a single thing where a consulting company can't help you.
Therefore, you can surely take their help and boost up your Amazon business. If you are running a business, you will have to invest money. It's always better to pay some extra money to consult and get things done in the right way. If you choose not to use an Amazon Consultant, you will likely incur a loss from all the costs you have spent on such as your inventory cost, product purchasing cost, seller account cost, etc.
So, what are you waiting for? You can contact us today to discuss how we can help your business. It won't cost you a single penny to contact us. We love having free consultations and learning more about your business. If you like our service, we can help you with your business. It's a win-win situation, you are getting help from experienced people as well as growing your business.
Contact us today and see how we can help in starting or growing your Amazon business.